Half Mirror Glass:
Structure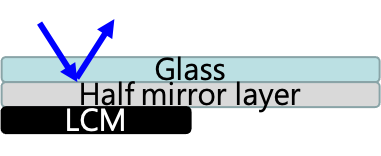 Description:
Half Mirror coating substrate has been widely used in various segments, such as smart refrigerator, digital
signage, conventional and new energy vehicle, green building glass and other customized application to
fit into the user's needs.

Buwon focuses on the development of glass coating technology for use in various industry. Our production line uses advanced German sputtering equipment that supports multi-target production process to enable continuous production to improve the overall efficiency. In-line inspection is set up at the entrance and exit of production line to check the glass quality.